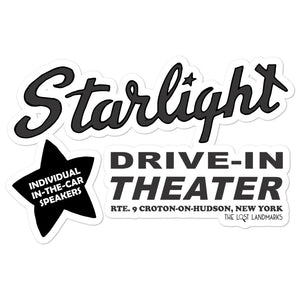 Show the world you dig one of the country's coolest drive-ins...The Starlight Drive-in!
Growing up in the Croton on Hudson area, certain businesses stuck out to me, usually because I played on the Little League team sponsored by the business. Berger's Stationery. A little shop downtown called Import Corner. And my very first team ever, Starlight Lanes. Located right next to the bowling alley was the Starlight Drive-In theater which provided some of my fondest memories growing up. I think the first movie we went to see there was Herbie the Love Bug. We saw many others, but it was never really about what was playing when I went there. It was about the experience. It was wearing our pajamas in the car. It was about waiting for our dad to get back from the snack bar. It was about the mysterious contraption that got rigged on the inside of the driver side window so that everybody could hear the sounds of the movie. This classic drive-in, which opened back in the 1940s, was located right on Route 9, and another thrill was when you would drive past the theater at night and be able to sneak in 15 or 20 seconds of whatever happened to be playing. Of course, you couldn't hear anything but that didn't matter. It's still felt like you were getting something for free. I remember when the drive-in came down when I was in sixth grade back in 1973. It really felt like the end of an era. Also the end of the innocence, or at least the beginning of the end. Whenever I'm back in the area and I drive past I look at the site today, which has been developed into a shopping center. But I can still see the big screen. I can still picture my sisters and I all cozy in the backseat. I can still feel my youth. – Chris
• High opacity film that's impossible to see through
• Fast and easy bubble-free application
• Durable vinyl, perfect for indoor use
• 95µ density

Don't forget to clean the surface before applying the sticker.
Size guide
| | |
| --- | --- |
|   | 5.5X5.5 |
| Height (inches) | 5 ½ |
| Width (inches) | 5 ½ |