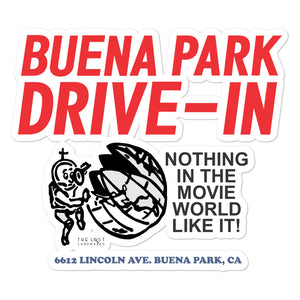 Load up the station wagon cuz we're goin to the movies! The Buena Park Drive-In was opened on April 22, 1970 with "2001:A Space Odyssey" and "Ride the High Wind". This curious little space alien was featured on the grand opening advertisements to let people know "Nothing in the movie world like it!". As a young teen in the 70's my buddies and me would enter the exit on our Stingrays then pull up to a speaker, put down the kickstand and lean back on our sissy bar. What a way to watch a movie! All was good until the white coated drive-in security guy tried to bust us. Good luck trying to catch us! I could swear Blue Water...White Death played for a whole summer at that place! Dave.
• High opacity film that's impossible to see through
• Fast and easy bubble-free application
• Durable vinyl, perfect for indoor use
• 95µ density
Don't forget to clean the surface before applying the sticker.
Size guide
| | |
| --- | --- |
|   | 5.5X5.5 |
| Height (inches) | 5 ½ |
| Width (inches) | 5 ½ |